What To Take
To A Tailgate Party
When it comes to tailgating, you can never take too much -- whether it be food, drink, or gadgets. Here's a tailgater's checklist to make your tailgate party the best.
(You don't want to be viewed as a "rookie" now, do you?...)
Make a Tailgating Checklist
To ensure nothing gets left at home, make a list of things you need to take to the tailgate party.
Be sure to put your game tickets on the list too!
If you want to be king (or queen) of the parking lot this year, then make sure you have the latest tailgating accessories available for your vehicle.
And, with these great tailgating products, game day will never be the same!
Develop a check list and laminat it. On Fri/Sat as you are packing, simply check off the items with a dry erase marker. When all done, wipe it off and you are ready for the next game!

Following are the basic necessities for a successful tailgate party. Some are for the typical everyday tailgater, others are for the serious hardcore tailgaters. You know who you are. Pack accordingly.
Listed alphabeticaly:
Awning or Other Shelter
Beat the sun and rain. Tailgate tents/canopies will shield you from the sun and protect you from the rain. Plus, you can never have too many items at your tailgate with your team's logo on them

Beverages
Non-alcoholic beverages (iced tea, fruit juices, soda)
Alcoholic beverages (beer, margaritas, OJ, vodka, etc.)
If your going to drink, Please Drink Responsibly
Good idea to keep these in seperate coolers if possible
Bottle opener/can opener/wine opener
Binoculars
If your a nose bleed ticket holder
Blankets
Blankets are a must when football season gets cooler. You can buy blankets that double as ponchos, seat cushions and tote bags. However, a Colts blanket would be best
Bungie cords/rope
Camera
So you can take pictures of the game along with you and your friends and send them to us to post on the site
Chairs
Folding Chairs
These are great to bring just about anywhere. They fold up, are easy to carry and you have a comfortable seat for tailgating.
Instead of grabbing basic folding chairs and sitting in the back of the truck, go front-porch chic and transform the parking lot into your own outdoor living space. Enlist a few guys to help load a couch or chairs from home for maximum comfort. Toss sheets or blankets in team colors over everything to protect the fabric
Clothing
Dress appropriately for several hours outdoors
and be prepared for drastic temperature changes.
Show your team spirit! Wear team colors.
Tailgaters are usually the biggest and best fans!
Are you a true Colts Fan

And don't forget to wear comfortable shoes.
Condiments
buns, cheese, onions, mushrooms, barbecue sauce, salt, pepper, hot stuff, ketchup, mustard, BBQ sauce, cheese, pickles, onions, miscellaneous toppings, etc.

Coolers


Another must for tailgaters is the coolers. Most 10 quart coolers will hold a six pack. A 16 quart will hold 20 cans.
Take three. All different colors.
Then you'll know which one is the "beverage" cooler,
which one is the "food" cooler and
which one is for "condiments"
(eggs, cheese, mustard, ketchup, etc).
A metal cooler would be heavier, but in the long run you won't need as much ice.
More On
COOLERS
Another cool site desighned by the Webmaster
COOKWARE
| | | |
| --- | --- | --- |
| | | |
Coozies / Koozies


Keeps beverages colder longer You can also get a complete off the wall - stand out Coozie to stand out from everybody else's drinks!
Fire extinguisher
One never knows
First aid kit


Tylenol, Advil, Aspirin
Antacid/Tums
Antiseptic
Band-Aids
Games
Football, frisbee, playing cards, games
TAILGATE TOSS
Ice
Jumper cables
Because while everybody should have them, almost nobody does.
See Power in The Parking Lot - Inverters
Power & Electricity
See Power in The Parking Lot
Radio
Rain Gear/Ponchos
or
an umbrella
Be prepared for anything. It often rains at the games.
When everybody else is in their car, truck or van, you'll be cookin'!
Stay dry and support your team with this Indianapolis Colts Rain Jacket! This Colts hooded rain poncho is water resistant and includes side snap closure. One size fits all. Get yours before a rainy game day!

Price: $15.00
Shoes
Comfortable shoes
Sometimes we forget how much we visit and with the right shoes you can walk to your stomach's content.
Sun Block
Even during football season, you need sun block. You can never have too much at a game. Be sure to get the sweat proof kind.
Sun Glasses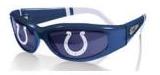 Table

TABLEWARE
cups plates bowls forks spoons napkins garbage bags paper towels
cooler knife large spoon tooth picks table cloth plastic storage bags Portable can opener serving tray(s)
Plastic is best. Avoid using ceramic bowls and glass cups and plates. Disposable plates, cups, forks, knives and spoons eliminate a messy clean-up. However, serrated metal knives are necessary if you are serving steak, chicken and anything else that will be too tough for plastic.
Big utensils.
You will need serving spoons, tongs and a cutting knife for all the heavy duty dishes.
What would tableware be without a tablecloth? Paper towels, napkins, sanitary wipes and plastic trash bags are essential.
Don't forget a corkscrew and can/bottle opener.
Make sure to set aside a separate trash bag for recycling. Dump the excess food off of your plastic plates into the trash bag and place the plates into the recycle bag. You can also place your plastic-ware, cans and bottles in the recycling bag. You're not only clearing your table, but your conscience as well.


Team Flag
and
Telescoping flagpoles
Mark Your Spot At The Tailgating Party
A flag or team pennant on a tall pole helps people locate the party and makes a statement of team spirit.


Some of the flagpole kits online go for around $175 for a flagpole.
Try going to Bed Bath and Beyond and buy a telescoping window washing extension pole for $20. It extends to about 15 feet and could be stored easily in your trunk as it is only about 5 feet long when it not't extended.
Buy some extra zip ties and hang the pole up from another pole using the other zip ties to put the flag on the top of the pole - hang it halfway up the pole and the flag is about 20 feet in the air and could be seen from all over the parking lot
THEMED DECORATIONS
Have a Tailgating Theme
Think up a creative theme for your tailgate. If it's Thanksgiving, bring a turkey. If it's Christmas, bring a tree. Or, base your theme and decorations on the opponent. For example, you might have Cajun food against the Saints, Philly cheese steaks against the Eagles, or fish against the Dolphins.
Arrive in a Mayflower Van when playing the Baltimore Ravens.
Be passionate about your rivalries. Go out of your way to come up with funny banners that put down your foes.
You won't be able to have that fun inside the stadium.
Toilet paper
The MVP (most valuable product) of the parking lot. Don't get caught with your pants down in a Port-A-Potty with no TP.

Your very own port a potty?
You can make one out of a tall shower tent from wall-mart for $30, and then get a bedside commode from the hospitol. Take out the small bucket and place a 5 gallon bucket under the seat on the ground. Just add TP and hand sanitizer and now you have your very own port-a potty. It is narrow so it fits in between your cars, if you remember to leave a little extra space. Have the open end behind you so you block off the entrance with your party
1 for paper/plastic goods, bbq utensils, extra batteries, propane hoses, extension cord, garbage bags and other such items.
The other tote is for the food that doesn't need to be iced or cold goes, ie bread, chips, some condiments, etc...
Store these totes together and they only come out for tailgating events.
Trash Bags
Plastic trash bags for clean up. A dedicated tailgater always respects their surroundings and leaves it clean.
TV
Water
To drink or douse flame about an hour or two before kick off
| | | |
| --- | --- | --- |
| Copyright © 1994, 1995, 1996, 1997, 1998, 1999, 2000, 2001, 2002, 2003, 2004, 2005, 2006, 2007, 2008 | | Jon's Images, Inc. All rights reserved |
This website is an unofficial source of news and information continually updated from thousands of sources around the net. A fan based site dedicated to the Indianapolis Colts and its fans and is not associated with the Indianapolis Colts, the National Football League, any school, team or league or any other media site.
This website is the composition of many hours of research. Information contained within this site has come from numerous sources such as websites, newspapers, books, and magazines. Please take the time to visit the Source page to get a semi-complete listing of these sources, articles, sites and fans.
Pictures and logos, team names are property of the National Football League and/or The Indianapolis Colts.
This site is maintained for research purposes only.
Contact us
Please direct website comments
or questions to webmaster