Purchasing a Grill How To Determine the Temperature How Long to Cook Meat Commencing With The ActualL Grilling The Secret to Barbequing
A grill is a must have. Remember to get one that is small and easy to transport.
A very often eluded neglect comes from one when they purchase a brand new grill.
When you purchase a new grill, it will be corrupted by impurities from the manufacturer's process, unwanted residues, metals, and all verities of bad things. Neglecting to remove these impurities will not cause you to go blind or anything, but leaving them won't exactly add the desired flavor to your food.
How to properly season your grill:

1. Build a fire (or if you purchased a gas grill, simply turn the knob to "On"), and let it burn for several hours at 350 degrees.
2. Rub down the cooking grids and the inside of the lid. Obviously, you'll want to wait after your grill has cooled down from performing step 1.
3. Remove the ashes from your grill.
Most people use the same grill from home when they tailgate. Most serious grillers swear by charcoal barbecues. However, gas barbecues are much more convenient and get the job done. Weber grills are very popular and are available in either gas or charcoal.
There are several different shapes, sizes and makes of grills. Some even come with attachments that fasten to your trailer hitch, which makes transporting and cooking much easier.
Know how many people you will be cooking for. If you are buying a grill specifically for tailgating and you plan on using it more than once, it is important to know approximately how many people you will be feeding. If you're feeding only a few people and the food you like is relatively small, there's no need to buy an industrial size smoker.
Here's a short check list to help you select your next Grill.

Choosing a Charcoal Grill
You can find what you need for anywhere around $20 to $100. Whatever kind you get, you'll want to make sure it has the following features:

Gas Grill VS Charcoal Grill
Why a gas grill? Gas grills are obviously just a bit more convenient than charcoal grills. There's no waiting for briquettes to heat up.
If a gas grill is faster than a charcoal grill, why the hell wouldn't somebody want one?
Cost for one.
Gas grills run anywhere from $200 to $1,000 or even more. As far the minimum price for a quality gas grill, were probably talking about $300 to $400 - but if you take care of it, it'll last you about 10 or 15 years.
Secondly, flavor!!!!!
Some will argue, but the taste is NEVER quite as good on a gas grill. The word gas itself conjures up a variety of adjectives and "flavorful" isn't one of them.
This does not mean you can not get great tasting food from a gas grill - it just means your offerings might suffer somewhat in comparison to a charcoal grill.
Perhaps you'll be able to taste the difference, maybe you just don't care, or conceivably your taste buds just aren't sensitive. Either way, the difference will be there - whether or not the difference is significant is a matter of preference.
Another drawback with a gas grill is that you can't barbeque efficiently. Barbequing requires slow cooking, with indirect heat, something that a gas grill can not provide.
Selecting A Gas Grill
There are 3 basic elements to consider when purchasing a gas grill: size, construction and performance.
SIZE: The bigger the grill, the more people you can cook for. If you want to put together any kind of tailgating party, you'd better get something that can handle more than 2 chicken breasts and a bell pepper.

CONSTRUCTION: Gas grills are made of stainless steel, cast aluminum and sheet metal. Sheet metal is cheaper as is its quality. Stainless steel or Cast aluminum can be expected to give you a long, rust-free life.

PERFORMANCE: You'll want to make sure your grill has at least 2 burners and the capacity to generate at least 35,000 BTU's. Anything less and you run the risk of not being able to get the thing hot enough, in which case you might as well just hold a match underneath your burger.
If you are using a gas grill, make sure your propane tank is full. If it is a smaller grill, bring an extra canister.
If you are using a charcoal grill, bring an extra bag of charcoal just in case everyone wants seconds and thirds.
Now that you have selected your grill, don't forget your grill peripherals. Your grill kit should include a spatula, tongs, grill brush, oven mitts and plenty of charcoal/gas tank. If you're using a charcoal grill you will need matches and lighter fluid (although, for better taste and less smoke, use Weber's Firestarter Lighter Cubes).
If you consider yourself the #1 Colts fan, then you should look into using an Indianapolis Colts Keg-A-Que Gas Tailgate Grill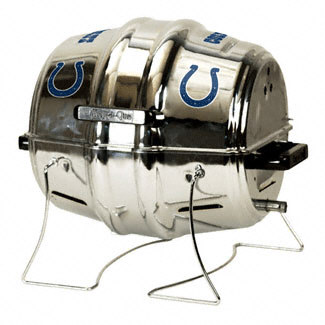 NFL Keg-a-Que
$89.95
Officially licensed NFL Keg-A-Que. A great grill that is always the talk of the party; not only for it's great looks, but as a great cooking grill. The polished Chrome Keg has NFL team marks on the top and side and is available as a Propane (9,000-10,000 BTU) or Charcoal grill. The grill features include a 200 square inch surface that can hold about 12-14 burgers. The construction includes heavy gauge steel, air-sealed vents, heat resistant and oversized carrying handle, and fold up legs. Shipped unassembled. Assembles in minutes using included instructions and tool.
Found at http://mi.bz/kegstore/product_info.php?products_id=32

Propane Tailgating Grill
The Freedom Grill
FG-100
The Official Grill of Tailgating™
The Freedom Grill FG-100 is perfect for SUVs, Pickups, Vans and RVs.
Extraordinary outdoor cooking awaits you with the FG-100. Mounting onto any 2" hitch receiver the patented arm locks in place for driving and swings away for cooking and access. The stainless steel grill stays outside the vehicle at all times leaving more room for coolers, chairs, tents, or passengers.
The FG-100 isn't just for tailgating either. The optional backyard stand allows this to be your only grill. Just slide the grill head off of the arm assembly and onto the stand and you can cook away from the vehicle.
Charcoal Tailgating Grill
The Kingsford Tailgating Grill It conveniently attaches to most 2? receivers and Hitch Hauls, or stands alone as a tabletop barrel grill. It has over 480 sq. inches of cooking space , chrome grill rack, adjustable char coal rack, and warming rack.
Line your grill with aluminum foil for easy clean-up and disposal of spent charcoal.
Here is some information on stoves that can be found on another Great Site designed by the webmaster
Seriously, the easiest way to measure is to just stick your hand down there (refraining from actually touching the coals). You can tell the temperature by measuring how long you can keep your hand close to the cooking surface without removing it. This may sound a bit un-profound, but it is very, very important to monitor heat while grilling - because grilling uses direct heat, the meat must cook fast and hot, or else it will end up too dry.
Use the table below as a guide:

| | |
| --- | --- |
| Time you can stand having your hand close to the cooking surface | Temperature |
| | VERY HOT, 600 degrees or higher |
| | Hot Fire, 500 to 650 degrees |
| | Medium hot, 450 to 550 degrees |
| | Medium, 400 to 500 degrees |
| | Low medium, 300 to 400 degrees |
| | VERY LOW fire, 300 degrees or less |
| Five Minutes or more | You forgot to turn on the grill |
Temperatures can vary depending on where on the cooking surface you put your hand. *If you wanted to get the surface's average temperature, you could probably do it by having all your friends put their hands on different parts of the grill, then measuring how long it takes each of you to pull back.
*Not recommended
Turning Your Meat
Turn your meat, but not until it starts to brown and no longer sticks to the cooking grates.
You should never grill your meat by time.
There are too many variables involved -
temperature of the fire at the surface and in the chamber, distance from meat to heat, meat thickness, lid up or down, outdoor temperature, wind speed, how often the meat is basted, astrological configurations.
If you've got an advanced degree in mathematics and probability you might be able to come up with a formula for all this, but otherwise it's best to do the following.
The best ay to tell if your meat is done is to measure your meat's internal temperature. You can accomplish this feat in 1 of 2 ways.
1. Use a bi-therm instant red thermometer. They only cost around $10 or $15.
2. Guestimate - you can guess whether or not the meat is done by checking the meats elasticity with a spatula and the use of the following guidelines:

ELASTICITY

YOUR MEAT IS:

Soft

Between raw and rare

Somewhat firm but springy

Medium cooked

Very firm, but still a little springy

Medium well to well done
(remove immediately)

No movement whatsoever

You ruined it
Prepare The Spread
First, you'll want to have your entire day's menu placed out before you, ready to throw on the grill. The laid out food works like a cooking schedule, allowing you to plan according to which foods cook fastest. You should season your meat and allow it to sit and marinate at least an hour beforehand - otherwise, the seasoning will burn off too quickly.
Lid up or Down
Keeping the lid down will dramatically increase the temperature of your grill. Except with extremely delicate meats like fish, it's probably a good idea to keep the lid up; otherwise your meat will cook to fast.
You want a constant cooking chamber temperature of 210 to 225 degrees. If the fire gets cold, add more coals / turn up flame. If the fire gets too hot, close off the air vent. Do not close off the exhaust or chimney cover or else you'll get your meat all sooty.
You need to keep your meat from drying out! Every 15 or 30 minutes you should baste your meat or else it will shrivel up and look most unappetizing.
For basting; use beer, vinegar, chicken stock or lemon juice mixed with spices and veggies such as chopped onions, garlic, and carrot along with seasoned salt, pepper, paprika, Worcestershire sauce, butter, canola, thyme, basil or any other ingredients to taste.
Try to avoid using any ingredient that includes sugar or tomatoes as they tend to burn too quickly.
It would be a great investment if you were to purchase and use a Bi-Therm (a meat thermometer) in order to gauge the internal temperature of the meat the most effectively.
Consider The Variations of Meats
Different kinds of meat have different cell structures. Although it is uncertain as to how various genetic codes translate into how a meat will cook, it is known that fish, chicken and beef react differently to heat, and treating them the same will result in sub-par taste.
The following tips are valid whether you're using a gas or charcoal grill:
FISH:
Before cooking, make sure fish is around room temperature. Coat lightly with vegetable oil, set the fire to medium and turn often.
Fish cooks very fast! To test doneness: use a fork or something and try to break it apart at its thickest portion. The fish should flake easily. If it does not flake easily - its sushi - it's not done.
CHICKEN:
Same as with Fish, make sure your chicken is at room temperature before cooking. The fire should be medium/hot. Let one side of the chicken brown and then the other side. The chicken should cling to the cooking grate at first, then release when it's ready to be turned. A chicken is done when it reaches 165 degrees (internal temperature can be checked with a bi-therm instant thermometer).
PORK CHOPS:
Chops should be close to room temperature before cooking, or possibly a little cooler. Being the other white meat, pork cooks similarly to chicken, except that it's done when it's internal temperature reaches 145 degrees. Cooking pork over 155 degrees is a very bad idea unless you consider teeth a disposable goods.
STEAKS:
Steaks should be cooked over a hot fire! The temperature of your steak before cooking can vary, although obviously your steak shouldn't come straight out of the cooler. For best results (well-charred on the outside and juicy on the inside), use a smaller, thicker (3/4 inch) cut. If you're using a thinner cut, cool the steak down before cooking so that it's firm but not frozen - that way the outside can char while the inside thaws and then cooks. For a rare steak, test doneness by sticking your finger into the center. The firmer the resistance, the more done the steak is. Soft means very rare, while barely discernable resistance means rare.
GRILLING SAFETY
Never use a barbeque grill in an enclosed area. The accumulate carbon monoxide gas can enter your lungs. The resulting damage could be fatal.
Clear away brush, dry leaves and any other combustible substances from the barbequing area, especially if it's windy outside.
Ground all electrically operate equipment
Check to make sure your grill's parts are all stable and working properly.
Tuck in your shirt. Don't wear anything with dangly strings or frills that can fall into the path of the flames.
Do not spread your barbecue sauce on cooking meat in an attempt to keep it from drying out. Barbeque sauce contains mostly sugar and tomatoes, both of which burn at low temperatures.
To keep your meat from turning into a dog's rubber play toy, find a barbeque sauce that doesn't contain sugar and tomatoes (won't taste as good though), and then thin it out with water, beer, wine, etc.
You could also marinate with a salad dressing which works just dandy (unless you use Thousand Island).
When adding your barbeque sauce, wait until the fire is almost out, or the gas grill has been turned off and the meat has had time to cool. Either way, temperatures should be less than 150 degrees.
Basically, you want the meat to be hot enough to dry the liquid of your barbeque sauce out, but not so hot that your sauce is cooked or even burned!
| | | |
| --- | --- | --- |
| Copyright © 1994, 1995, 1996, 1997, 1998, 1999, 2000, 2001, 2002, 2003, 2004, 2005, 2006, 2007, 2008 | | Jon's Images, Inc. All rights reserved |
This website is an unofficial source of news and information continually updated from thousands of sources around the net. A fan based site dedicated to the Indianapolis Colts and its fans and is not associated with the Indianapolis Colts, the National Football League, any school, team or league or any other media site.
This website is the composition of many hours of research. Information contained within this site has come from numerous sources such as websites, newspapers, books, and magazines. Please take the time to visit the Source page to get a semi-complete listing of these sources, articles, sites and fans.
Pictures and logos, team names are property of the National Football League and/or The Indianapolis Colts.
This site is maintained for research purposes only.
Contact us
Please direct website comments
or questions to webmaster