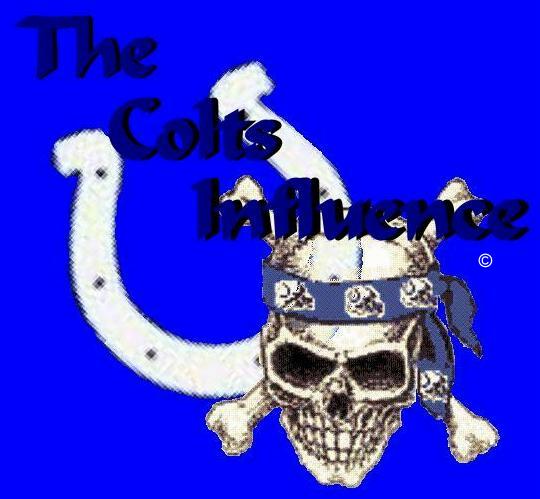 In memory of James Dungy
January 6, 1987 - December 22, 2005
The Colts Influence
www.angelfire.com/ia3/colts
Constructed, destructed and reconstructed
By
Jon T. Anderson
In Relation to Colts Tailgating
Colts FORUM
Message Board
Help with Message Board
WORKING ON IT
Colts BLOG
Post your Indianapolis Colts Comments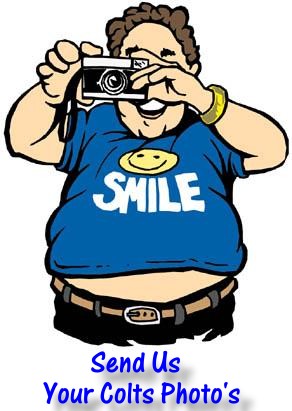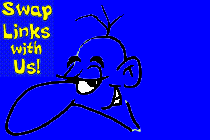 The Colts Influence
www.angelfire.com/ia3/colts
www.mycolts.net/coltsinfluence
http://myspace.com/coltsinfluence
How to be a Colts Tailgater
Some people just can't get enough of the great outdoors. They enjoy eating outside, no matter what the season. They find ways to overcome the cold, the wind and other atmospheric disturbances. In fact, they like it so much that they bring equipment worthy of a home or patio kitchen on their outings.
Of course, what were describing is a tailgating party.
Serious tailgaters work to establish the most elaborate setting for their party. Tables, chairs, carpets and grills - all the comforts of home - are taken along for the party. Tailgaters are very serious about their food, often preparing days before the event.
What a Tailgater Needs
Tailgating Tips
1. Dress in Blue & White - hint the team colors!!! Wear a team jersey or sweatshirt! You are the 12th man on the team . . .
Show your team spirit. Tailgaters are the best fans!!!!!
How to be a Colts Fan
2. Plan your menu and do prep work a day or two before the game. Keep the menu simple (here are some sample recipes) and pack prepared food in disposable containers.
Food & Recipes for Tailgating

3. Pack the night before or earlier if you desire.
Best to be ready than running late and forget something . . .
like maybe Game Day tickets!
Keep a Tailgating Tote
3. Make a list of the items you want to take along. Check off items as you pack. Pack paper products (plates, napkins, towels, forks, spoons, etc.) the night before. Remember such items as a small first aid kid, trashbags, water, and damp towels in ziplocks to clean hands and face.
4. Get there early. You'll want to arrive 3-5 hours before game time to beat the crowd and claim your turf. And, plan to stay late so as to not miss a moment of the post-game enthusiasm.
5. Find a good spot to park. Not all parking spaces are created equal! Park next to a grassy area or at the end of the parking row--this gives you more room for serious tailgating!
6. Fly a flag on a very high pole so friends can find you.
7. Decorate your tailgate site with team pennants and other team stuff.
8. Meet your tailgate neighbors, throw the football with friends, read the Sunday paper and have a good time!
Note: If attending a Thursday or Saturday game, substitute appropriate newspaper.
9. Food should be ready 1 and 1/2 hours before the game starts. This is plenty of time for those going to the game to eat, clean up and extinguish fires. (Those not going to the game can pull out the generator and TV.)
10. Leave area clean
If you brought it in, TAKE IT OUT!.
Large tailgates require a lot of additional help. Have a meeting with tailgating constituents (at a local bar) to plan and distribute responsibilities; write down on paper!
One person can not do it all!
When the schedule comes out in February, pick a game. Couple months before game day send out a Tailgating Invitation to everyone on your list. For those Veterans who always go and for any rookies, collect $5 - $20 a person. As the person running it, go ahead and plan the menu and allocate your budget for tent and grill rental, personalized cups, and everything from the Fruit marinated in Finlandia to the KaKabob Contest, chili and hot dog Buffet.
What To Take
When it comes to tailgating, you can never take too much -- whether it be food, drink, or gadgets. Here's a tailgater's checklist to make your tailgate party the best.
(You don't want to be viewed as a "rookie" now, do you?...)

Food & Recipes
Everyone knows that grilling dogs, burgers, and brats along with downing a few brews is an important part of the tailgating experience. That, and the aroma of bar-b-que permeating the air. Here are some food prep tips and menu ideas for your tailgate party.
As far as liquid refreshments go, here are the facts about beer.
Tailgating Gadgets & Gizmos
If you want to be king (or queen) of the parking lot this year, then make sure you have the latest tailgating accessories available for your vehicle. And, with these great tailgating products, game day will never be the same!
| | | |
| --- | --- | --- |
| Copyright © 1994, 1995, 1996, 1997, 1998, 1999, 2000, 2001, 2002, 2003, 2004, 2005, 2006, 2007, 2008 | | Jon's Images, Inc. All rights reserved |
This website is an unofficial source of news and information continually updated from thousands of sources around the net. A fan based site dedicated to the Indianapolis Colts and its fans and is not associated with the Indianapolis Colts, the National Football League, any school, team or league or any other media site.
This website is the composition of many hours of research. Information contained within this site has come from numerous sources such as websites, newspapers, books, and magazines. Please take the time to visit the Source page to get a semi-complete listing of these sources, articles, sites and fans.
Pictures and logos, team names are property of the National Football League and/or The Indianapolis Colts.
This site is maintained for research purposes only.
Contact us
Please direct website comments
or questions to webmaster